Romance, good mood, and exotic relaxation is incomplete without candles. We all love scented candles and they are the most convenient way of adding a rustic and exotic touch to the house. However, luxury candles are incomplete without luxury candle packaging. Long gone is the time when customers used to buy stick candles just to light up their homes. Nowadays, candles are elegance, luxury well as sophistication. They are not only to light up your house, but also to scent them, add an exotic fragrance, and create a relaxing environment.
Scented candles with essential oils are extremely popular. Custom made candle come with all kinds of scents like lavender, jasmine, coffee as well as rose. Not only that, but you can also get candles in many exotic and tropical scents. You can even get a scented candle that will take you to the remote beaches of the world with its unique scents. However, your luxury candles may not sell as much as you want if your luxury candle packaging isn't as good as the target market wants. Apart from that luxury candles are great as a gift, but the consumer will only buy it as a gift of the packaging is according to that.
Designing the perfect candle packaging isn't hard, but it's in-line with the trends is what's hard. If you are looking to create a new style pack for your candle here are some great examples.
Don't Ignore the Designing:
Most brands consider boxes as just boxes, nothing more or less. They forget that these boxes are their first impression on the consumer. If the first impression isn't strong, how will the consumer think about investing in your product? So, when it comes to designing your rigid boxes for candles make sure you use the latest trends. Luxury items need luxury packaging, hence make sure the colors, as well as the material both, are trending and of the best quality.
Use the colors that match your luxury candles, use patterns that reflect the scent of your candles as well. For example, if your candles have a tropical smell, go for a tropical pattern, if your candles smell like strawberries, print strawberries on your custom rigid boxes. Matching primary and secondary packaging are great for your product presentation. It tells the customer that you put as much effort into your custom packaging as you do in your product. This also gives the impression that you are a brand that can be trusted.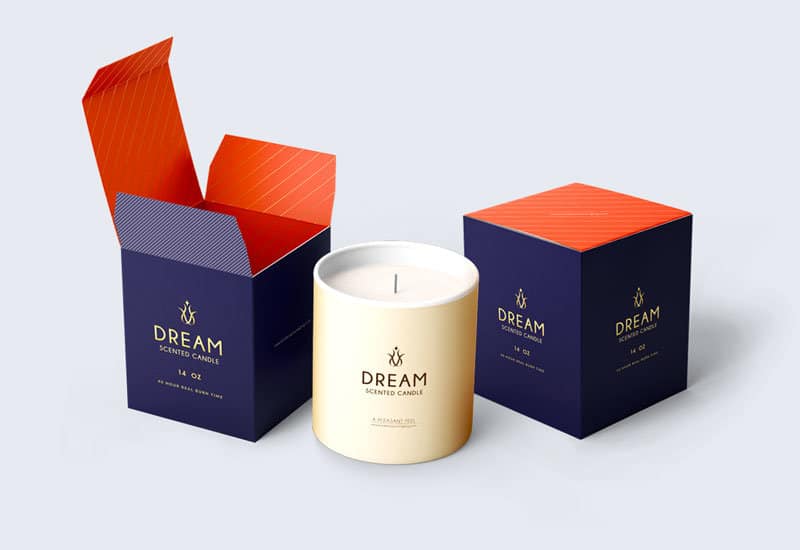 Premium Quality Material:
Luxury candles are fragile, they are set in glass jars. Apart from that candles should be kept in a stable environment as hot temptation can disfigure them. Hence the material you choose for your luxury candles should be durable and sturdy enough to keep your candles safe and protected.
Add-ons for Marketing Purposes:
The difference between the old candle packaging and the latest candle packaging is the fact that the latest ones are great for marketing purposes. You can take your customizable packaging and add your company values, your logo as well as a personal message. You can also get ribbons, satin, or rope handles added to your custom boxes to make your packaging look as luxurious as your candles. Not only that but you can also build a brand identity with your custom boxes. So, much can be achieved with just one custom box.
Customizable add-ons are great for marketing purposes. These save your money as you are advertising through your custom boxes. From an array of typography, imprinted logos, carved logos, engraved logos, and embossed logos, you can take your pick. Not only that but you can also have Spot UV technology on your boxes as well. Custom boxes have a lot of scope for customization, they are like your blank canvas, you can add a world to them to make them look great and impressive.